Stamp Sample

Sample artwork for a Large Stamp. Artwork is black and white, 300dpi, at least 60mm tall, and saved in .JPG format. Minimum line width is thicker than 0.2mm.

Artwork processed and set-up by Vector Etch staff for laser engraving in stamp rubber. Artwork is reflected and inverted automatically by our stamp making program.

Final finished stamp and stamp print. To make our stamps, we cut around the stamp rubber design, adhere it to Magic Mount (a soft material that makes stamping easier), and assemble it onto one of our wooden stamp bases.
With a good stamping technique, the stamp will print exactly like the black and white artwork supplied.
To order a stamp, simply checkout with a stamp in the size of your choice from our Stamps and Ink Pads category. Upload your black and white artwork, add to cart and checkout.
Stamps are only available to order via the Custom Cuts Shop (you cannot order stamps as a quote by file/vector file layout).
You will not receive a proof as we will create your stamp exactly as it appears in the digital file that you upload, scaled (proportionally) to the size ordered.
Your artwork must be a BLACK AND WHITE digital image file. There must be no colour or greyscale in your artwork.
We accept any digital file types (.psd, .png, .pdf, etc) but a .JPG is preferred.
Your artwork must be at least the size of the product that you are ordering, or larger. We can generally always scale an image down, but images don't always scale up clearly. Images should be at least 300dpi and preferably in .jpg format.
Sizes available are small (up to 60mm x 40mm), medium (up to 70mm x 50mm), large (up to 80mm x 60mm), extra large (up to 90mm x 70mm), and jumbo square (up to 100mm x 100mm).
We can make larger stamps (any size up to about 300x200mm ) on a quote basis.
We'll make your stamp to print exactly how it is uploaded i.e. we do not offer any graphic design services to change or modify your design.
Any areas in your artwork that are black will be stamp/print. Any areas that are white will not print/stamp.
If your design is detailed, or it has been created physically larger than the product size that you're ordering, it's a good idea to print it out at the size that it will actually be and see how it looks. It's difficult to gauge how images on a screen will look when they're made into a stamp, and printing your design out on your home printer is by far the best test to get an idea of how it will look. You might find that your design is too detailed and needs to be larger, or that some parts are too fine and need to be thicker, or it might be just perfect! We are not responsible for ensuring that your design does not contain parts that are too detailed.
You can create your design however you like (digitally, traditionally, photo, etc), provided that the end result you upload to the website is black and white.
Remove any smudges or marks from around your design that do not want to be there (like dust or un-erased lines). We'll set-up your file exactly how it appears, and any marks may show up in the final product.
For no reason should you reflect your design – this is not required and can create confusion.
Make sure that the details to stamp aren't too fine (thin lines may not stamp well). We recommend a minimum line width of 0.2mm or 0.5mm if inverted. We are not responsible for ensuring that your design does not include details that are too fine.

We can't work with images that are less than 300dpi. They will be too low resolution and look fuzzy/pixelated.

We can't work with most images found online. Most artworks online are only 72dpi (we require atleast 300dpi) and are not necessarily Copyright free.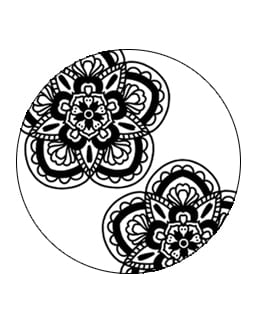 We don't recommend using designs that are too detailed, such as the line width is less than 0.2mm, as it may not give a good stamping result.

We can't work with artworks that have colour as we do not offer graphic design services to convert the artwork to black and white.

We can't work with artworks that have shades of grey as we do not offer graphic design services to convert the artwork to black and white.

We can't work with artworks that have an undefined or textured outline as it's unclear what areas are meant to stamp.